Fun ptoduct
IEC60695 Glow Wire Tester,Glow Wire Meter Light-Off Temperature Tester,Glow Wire Chamber
Item LX-Z17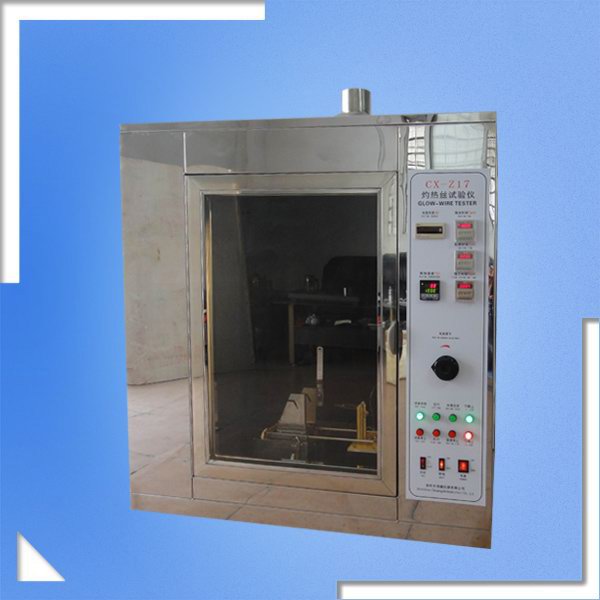 Specification:
Glow Wire Test Instrument is according to IEC60695-2-1, IEC60695-2-13 (GB/T5169.10-2006~GB/T5169.13-2006), and UL746A, IEC829, DIN695, VDE0471, the glow wire Test Instrument LX-Z17 is suitable for resistance to abnormal heat and fire test on lighting lamps, electronic products and household appliances. Adopting high-temperature coating spraying on steel structure and imported instrument display, with easy operation, stable performance the equipment is applicable to flame resistance tests of all levels of QC departments and cooresponding enterprises.
Technology Parameters:
Glow wire temperature: adjustable continuous within the range of 500~1000°c, the resolution of temperature is ±2°c

Glowing time: 0.1~999.9s, ±0.1s ( time range is adjustable)

Burning time: 0.1~999.9s, auto record and manual pause

Flame chilling time: 0.1~999.9s, auto record and manual pause

Glow wire pressure on test specimen: 1±0.2N. Limiting pressure depth is 7mm

Glow wire: diameter is 4mm include nickel (80%) and chromium (20%) which made in specific dimensions

Thermoelectric couple: φ0.5 armored nickel & chromium/ nidkel-chromium wire, K degree

Auto break away: While reaching specified glowing time, test specimen will break away from glow wire automatically

Working power supply: AC220V/50HZ and less than 500W

Equipment dimension: W1100mm x D700mm x H1300mm


Shenzhen Julixing Instruments Co., Ltd. are specialized in manufacturing special, custom built, test and measuring equipment for products testing as per international norms and offering calibration services and related information. Our products and services are used by research & development establishments, test laboratories, defense establishments, government institutions & manufacturing industries to fulfill the clients' requirements.

If you require equipment to test products such as home appliances, electrical accessories like switches, sockets, connectors, etc. industrial & road lighting luminaires, automobile lighting systems or related categories, we can provide the solutions you need.


We would appreciate your comments on the layout design, presentation or other aspects of our website.

Website: http://www.china-item.com


Contacts: Eason Wang
E-mail: sales@china-item.com
TEL: +86-755-33168386
Phone: +86-13751010017
SKYPE: carlisle.wyk
TradeManager: cn112384072
Address: 1F Junfeng Building, Gongle, Xixiang, Baoan District, Shenzhen, Guangdong, China
ZIP: 518102
Website: http://www.china-item.com/