Fun ptoduct
Proof Tracking Tester, Tracking Test Apparatus 600V IEC 60884 Testing Machine, Flammability Testing
Item LX-L19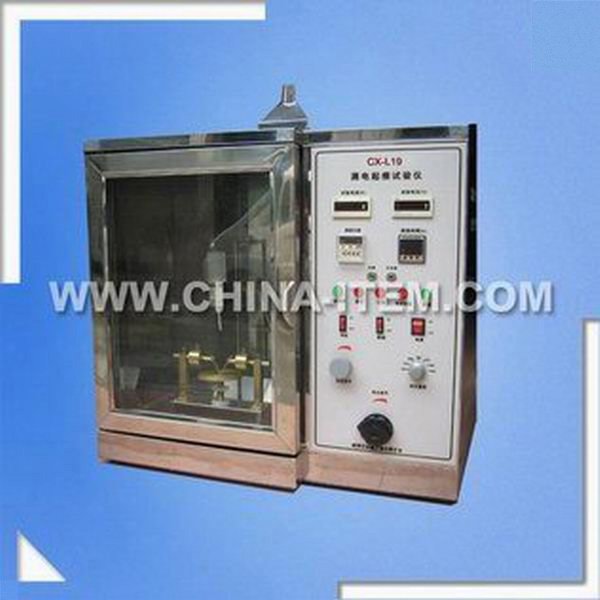 Tracking Test Apparatus
for determination of the proof (PTI) and the comparative (CTI) tracking indices of solid insulating materials
according to IEC 60112 :2009-10,
necessary for tests according to e. g.
IEC 60065, IEC 60238, IEC 60309-1, IEC 60320-1, IEC 60335-1, IEC 60598-1, IEC 60669-1, IEC 60670-1, IEC 60730-1, IEC 60745-1, IEC 60884-1, IEC 60947-1, IEC 60950-1,
IEC 61058-1.
Standard Outfit:
1 Pair of electrode holders, swivelling and adjustable in height, pressure force with inserted electrodes each 1 N, distance between electrodes adjustable, Bitmap
1 Pair of Platinum Electrodes, with dimensions in accordance with IEC 60112, 30° chisel-edged at both ends, made of platinum, purity 99.9 %,
1 drop dispensing unit, adjustable in height, easy to dismantle, container cylinder of acrylic glass, jet nipple Ø 1.0 mm, adjustable valve needle with electromagnet,
1 timer for the electromagnetic valve for an impulse every 30 seconds, impulse width adjustable for setting the drop size, with resettable counter for switching off the apparatus, with digital display for the testing time in minutes and seconds,
1 isolating transformer and variable ratio transformer for setting the testing voltage, output more than 1 kVA, voltage drop less than 10 %,
1 sample desk, precisely adjustable in height by a thumb wheel, with plate of glass,
1 adjustable resistor to limit the current to 1 A,
1 current indicating instrument 1.5 A, true r.m.s., class 1.5,
1 voltage indicating instrument, true r.m.s., class 1.5,
1 excess-current relay 0.5 A, response time 2 s independent of current,
4 keys for operation mode SINGLE DROP, TESTING, OFF and ADJUSTING.
Housing papyrus white structure varnished, width 505 mm, depth 480 mm, height 740 mm, control unit in 19" rack system, testing cabinet with panes easy to replace, with safety switches, with green lamp "ready for operation" and red lamp "danger", all parts in the testing cabinet made of no corroding or corrosion protected materials, delivery including mains connection cord set, 2 safety keys, testing solution A, bag with NH4Cl, bag with Nekal BX dry, measuring cylinder 2 ml and gauge to adjust the distance between the electrodes to 4 mm and the dropping height to 35 mm, for connection to 230 V AC, 50...60 Hz,
Tracking Test Apparatus 06, test voltages up to 600 V, voltage measuring ranges 300 V and 600 V, suitable for determinations according to all relevant standards.

Shenzhen Julixing Instruments Co., Ltd. are specialized in manufacturing special, custom built, test and measuring equipment for products testing as per international norms and offering calibration services and related information. Our products and services are used by research & development establishments, test laboratories, defense establishments, government institutions & manufacturing industries to fulfill the clients' requirements.

If you require equipment to test products such as home appliances, electrical accessories like switches, sockets, connectors, etc. industrial & road lighting luminaires, automobile lighting systems or related categories, we can provide the solutions you need.


We would appreciate your comments on the layout design, presentation or other aspects of our website.

Website: http://www.china-item.com


Contacts: Eason Wang
E-mail: sales@china-item.com
TEL: +86-755-33168386
Phone: +86-13751010017
SKYPE: carlisle.wyk
TradeManager: cn112384072
Address: 1F Junfeng Building, Gongle, Xixiang, Baoan District, Shenzhen, Guangdong, China
ZIP: 518102
Website: http://www.china-item.com/