Fun ptoduct
High Temperature Oven, High Temperature Test Chamber, Dry Box
Item LX-HTC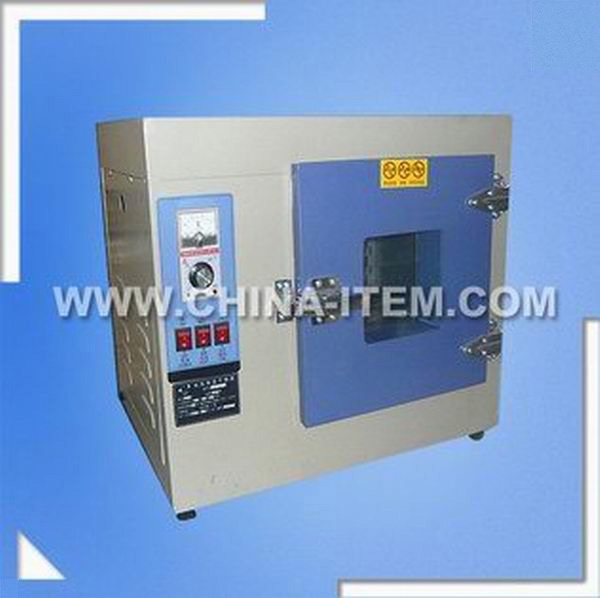 Product features:
1.The inner side of test chamber is welded by uniformity stainless steel argon arc.The chamber body is made of high quality steel plate with beautiful and novel appearance.
2.This chamber is used high temperature deviation protection,digital display microcomputer and PID control technology to ensure the high precision of control temperature.
3.In order to improve the uniformity of the inner studio,the hot air circulation system is composed by air blower and appropriate air duct.The air blower can work in high temperature conditions.
4.The new kind synthetic silicon is used in this chamber,it helps to ensure long-term operation at high temperature ,prolong service life and replace conveniently.
5.Control panel display helps to adjust/regulate the air inlet and exhaust quantity.
6.If the actual temperature exceed limited temperature ,the independent Limit temperature alarm system will interrupt automatically to ensure the safety operation and no accidents of thest .(Selection)
7.In order to record the temperature changable parameters, this chamber can be matched with a printer or a RS485 interface to connect a printer or computer.(Selection)
Technical parameter:


Shenzhen Julixing Instruments Co., Ltd. are specialized in manufacturing special, custom built, test and measuring equipment for products testing as per international norms and offering calibration services and related information. Our products and services are used by research & development establishments, test laboratories, defense establishments, government institutions & manufacturing industries to fulfill the clients' requirements.

If you require equipment to test products such as home appliances, electrical accessories like switches, sockets, connectors, etc. industrial & road lighting luminaires, automobile lighting systems or related categories, we can provide the solutions you need.


We would appreciate your comments on the layout design, presentation or other aspects of our website.

Website: http://www.china-item.com


Contacts: Eason Wang
E-mail: sales@china-item.com
TEL: +86-755-33168386
Phone: +86-13751010017
SKYPE: carlisle.wyk
TradeManager: cn112384072
Address: 1F Junfeng Building, Gongle, Xixiang, Baoan District, Shenzhen, Guangdong, China
ZIP: 518102
Website: http://www.china-item.com/