Fun ptoduct
Lab Needle Flame Tester for IEC60695, Flammability Test Machine Needle Flame Tester for IEC60112
Item LX-Z18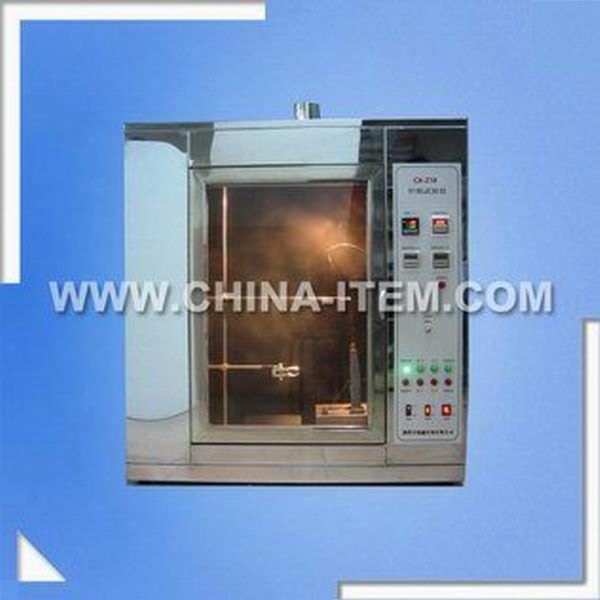 According to IEC60695-2-2 and IEC60695-11-5, LX-Z18 Needle Flame Test is applied on the production and quality control department of lighting instrument, hypopiesis electrical apparatus, domestic appliance, machine electric appliance, electrical machine, power tool, electronic instrument, electrician instrument and technical equipment. Also, needle flame tester is fit for the industry of insulation material, engineering plastics and solid combustible material.
Specifications:
| | |
| --- | --- |
| Angle of burner | incline with 45°(when in test) / plumb(when adjust the flame's height) |
| Time of start burning | 0~999.9s±0.1s adjust (30s in general) |
| Time of keep burning | 0~999.9s±0.1s, auto mark, pause with hand |
| Height of frame | 12mm ± 1mm (test tool with height) |
| Burning air | 95% of butagas |
| Test range of temperature | 0~1000°C |
| Requirement of flame's temperature | within 23.5 seconds±1s when the temperature rise from 100°C±2°C to 700°C±3°C |
| Temperature testing thermocouple | Φ0.5mm armoured (K pattern) thermocouple |
Features:
•Self contained cabinet with large viewing window gives a draft-free test
•Dark interior cabinet color for better test viewing
•Easy access to testing area during setup
•Safety interlock on door halts test if the door is opened
•Internal cabinet light can be turned on during test setup and shut off to give better viewing during the test
•Convenient built-in flame measurement scale
•Built in exhaust fan and control
•Control panel has all controls in easy reach including lighting and exhaust
•Automatic electronic flame ignition with type K thermocouple and temperature control to automatically measure, verify, and adjust the flame temperature and rate of rise time.
•Touch Screen Controller

Shenzhen Julixing Instruments Co., Ltd. are specialized in manufacturing special, custom built, test and measuring equipment for products testing as per international norms and offering calibration services and related information. Our products and services are used by research & development establishments, test laboratories, defense establishments, government institutions & manufacturing industries to fulfill the clients' requirements.

If you require equipment to test products such as home appliances, electrical accessories like switches, sockets, connectors, etc. industrial & road lighting luminaires, automobile lighting systems or related categories, we can provide the solutions you need.


We would appreciate your comments on the layout design, presentation or other aspects of our website.

Website: http://www.china-item.com


Contacts: Eason Wang
E-mail: sales@china-item.com
TEL: +86-755-33168386
Phone: +86-13751010017
SKYPE: carlisle.wyk
TradeManager: cn112384072
Address: 1F Junfeng Building, Gongle, Xixiang, Baoan District, Shenzhen, Guangdong, China
ZIP: 518102
Website: http://www.china-item.com/