Fun ptoduct
IPX8 Water Immersion Testing Machine
Item LX-IPX8J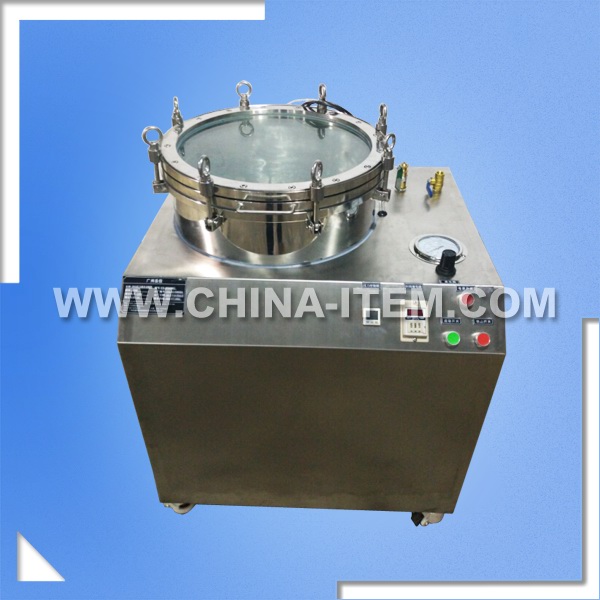 Test standard:
IPX8 water proof test machine is designed according to the relevant standard requirements of IEC60529:1989+A1:1999 , GB4208, GB7000.1
Application:
The device is primarily a test product performance when immersed in water environment, mainly applicable to the case of the outdoor lighting, diving lamps (flashlight), swimming pool lighting, automotive lighting, household appliances, electrical and electronics, communications and signaling devices and other products do protection class test (IP waterproof rating test). Dedicated to water protection level detection device is ideal for professional testing organizations test equipment, as well as other water equivalent test methods. After the test, to determine the performance of the product through the identification is able to meet the requirements, in order for use of the product design, improvement, identification and factory inspection.
Features:
1. IPX8 pressure immersion test device all use SUS304 stainless steel plate with high accuracy of the overall sub arc welding forming, outside the mirror polished, inner rough polishing, beautiful appearance, easy to clean and durable.
2. Case are all made of stainless steel welding forming, antirust and beautiful appearance, the human body design (can cover height just easy open cover operation and observation of the test case, the panel 45 degrees inclined mode button operation)
3. Full transparent flange cover for easy observation of the water situation in the test sample,20mm thick tempered glass is firm and durable.
4. Special silicone sealing ring (elastic good never aging, a sealing ring can be used for ten years).
5. Using domestic big brand "Red Flag " brand pressure gauge, the surface diameter is 100mmm, precision 1.6, intuitive display, high stability and accuracy, the gauge can pass the test of the national metrology units.
6. Safety valve all through the "Guangzhouspecial pressure equipment testing and Research Institute," inspection contract, each device is accompanied by a "safety valve inspection report" you can rest assured that use.
7. Electronic control components are all imported LG, Panasonic, Omron, and other brands, electromagnetic AIRTAC use genuine, durable.
8. Imported Panasonic brand "pressure sensor" automatic control test pressure, the pressure control range of -0.1-1.0Mpa, control precision 0.001Mpa.
9. Time control function, set the time 0-999 minutes to reach the test time can automatically stop the supply pressure and automatically drain the tank air, the test personnel to open the tank cover and remove the test sample.
10. Bottom seat is equipped with four activities with brake casters for easy mobility.
11. Note: the height, diameter and pressure range of IPX8 pressure water immersion test machine can be customized according to customer's request or product's size.
Specifications:
Device parameters

Item No.

LX-IPX8J

Pressure adjustment method

Auto-Control

Pressure adjustment range

0.00-0.3Mpa

Test depth range

0-30m

The maximum limit pressure

0.4Mpa

Tank thickness

4mm

Tank diameter

0.5m

The water level inside the tank

0.5m

External Dimension

800*700*1000mm

Material of tank

SUS304

Time control

0-999Min

Protection function

Pressure safety valve protection, leakage switch

Voltage

AC220V

Power

100W

Weight

150KG

According to

IEC60529:1989+A1:1999 IPX8

Shenzhen Julixing Instruments Co., Ltd. are specialized in manufacturing special, custom built, test and measuring equipment for products testing as per international norms and offering calibration services and related information. Our products and services are used by research & development establishments, test laboratories, defense establishments, government institutions & manufacturing industries to fulfill the clients' requirements.

If you require equipment to test products such as home appliances, electrical accessories like switches, sockets, connectors, etc. industrial & road lighting luminaires, automobile lighting systems or related categories, we can provide the solutions you need.


We would appreciate your comments on the layout design, presentation or other aspects of our website.

Website: http://www.china-item.com


Contacts: Eason Wang
E-mail: sales@china-item.com
TEL: +86-755-33168386
Phone: +86-13751010017
SKYPE: carlisle.wyk
TradeManager: cn112384072
Address: 1F Junfeng Building, Gongle, Xixiang, Baoan District, Shenzhen, Guangdong, China
ZIP: 518102
Website: http://www.china-item.com/