Fun ptoduct
IPX5 IPX6 Rain Spray Test Equipment
Item LX-IPX56A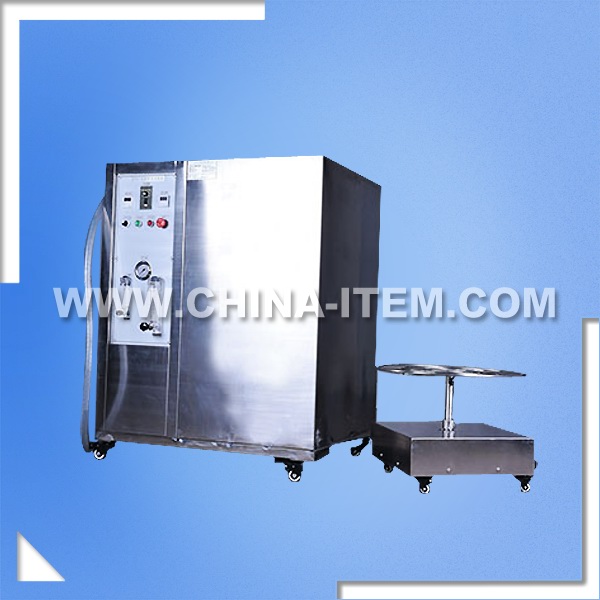 Test standard:
Outdoor waterproof testing equipment is designed according to the relevant standard requirements of IEC60529:1989+A1:1999 IPX5/6.
Application:
IPX5 IPX6 Rain Spray Test Equipment simulates the water drip environment to test the water resistance and sealing of the samples during storage, transportation and usage. It is widely applied to electrical and electronic products, lamps and lanterns, electrical cabinet, electrical components, automobile, motorcycle and its spare parts and other products. It provides the basis to improve the performance of the products.
Features:
1. Split type structure, safe and reliable, equipment rack and sample turntable all by the high quality aluminum alloy item No. and SUS304# stainless steel plate, ensures a long time use does not rust.
2. Turntable electrical part fully sealed to prevent water leakage, turntable use speed motor, speed in the standard range can be adjusted, and can control the forward and reverse rotation (suitable for the sample with the electric test).
3. Comes with a water tank, the water tank installed with the water level float valve automatically control the water, and there is a low level alarm detection, effectively prevent the water pump dry and turn damaged.
4. Electrical components used in all such as LG, Omron and other imported brands, wiring craft accord with the requirements of the national standard, panel layout is reasonable, firm connection and marked clearly.
5. Test time can be set 0-999M adjustable, the sample power with power time control function, IPX5 and IPX6 test a key conversion, a key to start, automatic stop, simple intelligence.
6. Spray nozzle: according to the relevant standard requirements of IEC60529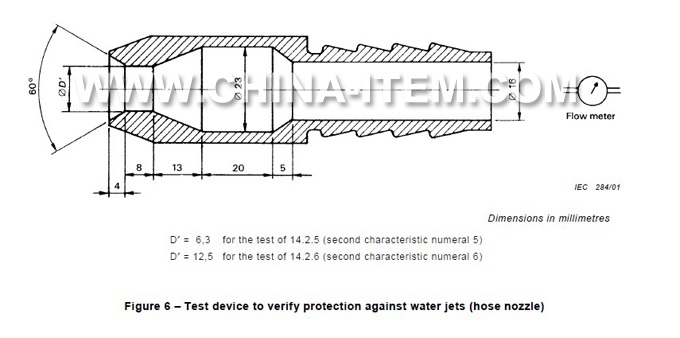 Technical parameters:
Equipment parameters

Item No.

LX-IPX56A

Control system

(key type) time relay + switch

Exterior chamber size

W1026*D776*H1345 (mm) (Contain castor)

Water storage tank volume

420L, Size700×500×1200(mm), SUS304

IPX5 Spray nozzle diameter

6.3mm

IPX6 Spray nozzle diameter

12.5mm

IPX5 Water flow

12.5±0.625 L/min

IPX6 Water flow

100±5 L/min

Water pressure(Mpa)

adjustable

Water flow control

Valve for water flow regulation and shut off.

Space from nozzle to sample

2.5m-3m

Fixed method of spray gun

Hand Held

Water pump

Stainless steel multistage pump

Waterway material

Stainless steel + PPR pipe welding

Rotary table size

¢600 mm

Rotary table power supply

AC220V

Material

SUS304

Protection device

Leakage, water shortage, short circuit

Power supply

380V

Power requirements

3 KW

According to

IEC60529:1989+A1:1999, GB4208, GB7000.(IPX5, IPX6)

Shenzhen Julixing Instruments Co., Ltd. are specialized in manufacturing special, custom built, test and measuring equipment for products testing as per international norms and offering calibration services and related information. Our products and services are used by research & development establishments, test laboratories, defense establishments, government institutions & manufacturing industries to fulfill the clients' requirements.

If you require equipment to test products such as home appliances, electrical accessories like switches, sockets, connectors, etc. industrial & road lighting luminaires, automobile lighting systems or related categories, we can provide the solutions you need.


We would appreciate your comments on the layout design, presentation or other aspects of our website.

Website: http://www.china-item.com


Contacts: Eason Wang
E-mail: sales@china-item.com
TEL: +86-755-33168386
Phone: +86-13751010017
SKYPE: carlisle.wyk
TradeManager: cn112384072
Address: 1F Junfeng Building, Gongle, Xixiang, Baoan District, Shenzhen, Guangdong, China
ZIP: 518102
Website: http://www.china-item.com/