Fun ptoduct
IPX1 - IPX2 Rain Spray Test Instrument
Item LX-IPX12
IPX1 - IPX2 Rain Spray Test Instrument
IPX1 - IPX2 Rain Spray Test Instrument

Introduction

IPX1&IPX2 rain spray test instrument is used to test the sealing and water-proof property for external lighting, signal device, vehicle lamps shell protection. It provides a realistic water spray simulation condition of electronic products and components.

Application

Automobile lamps and lanterns, wipers, waterproof strip, motorcycles instrument performance, low voltage electrical appliances shell protection of waterproof performance.

According to

IEC 60529-2001:14.2.1 and IEC 60529-2001:14.2.2

Item

Drip Box

Model

LU-1700

Internal Size

1200 * 1200 * 1200 mm (D * W * H)

Product Weight (G.W.)

620 kg

IPX1~IPX2 Technology Parameter

Drip tray size

1000 * 1000 * 150 mm (D * W * H)

Rainfall capacity

IPX1: 1 ±0.5mm/min, IPX2: 3 ±0.5mm/min (Rainfall intensity is adjustable)

Water dripping hole diameter

ø 0.4 mm

Hole distance

20 mm

Rotary table size

600 * 600 mm

Rotary table angle

15~45°

Rotary table rotate speed

1~10 rpm/min (adjustable)

Rotary table load-bearing

≤30KG

Test of time

15 min or setting (Reflected in the centralized control system)

Pump water supply

1.5-15L/min

Drip Test Flume

The height of Drip Test Flume can be automatically lifted, lifting height: 600mm (calculate it from the table-board to the water drip with 200mm position)

Default test time

0~ 999 (S/min/h adjustable)

Power

220V 50/60Hz
IEC 60529-2001:14.2.1
14.2.1 Test for second characteristic numeral 1 with the drip box
The test is made with a device which produces a uniform flow of water drops over the whole area of the enclosure.
An example of such a device is shown in figure 3 a).
The turntable on which the enclosure is placed has a rotation speed of 1 r/min and the eccentricity (distance between turntable axis and specimen axis) is approximately 100 mm.
The enclosure under test is placed in its normal operating position under the drip box, the base of which is larger than that of the enclosure. Except for enclosures designed for wall or ceiling mounting, the support for the enclosure under test should be smaller than the base of the enclosure.
An enclosure normally fixed to a wall or ceiling is fixed in its normal position of use to a wooden board having dimensions which are equal to those of that surface of the enclosure which is in contact with the wall or ceiling when the enclosure is mounted as in normal use.
The duration of test is 10 min.
NOTE: When the base of the drip box is smaller than that of the enclosure under test, the lati into several sections, the area of each section being large enough to be covered by the dripping continued until the whole area of the enclosure has been sprinkled for the specified time.
IEC 60529-2001:14.2.2
14.2.2 Test for second characteristic numeral 2 with the drip box
The dripping device is the same as specified in14.2.1 adjusted to provide the water flow rate specified in table 8.
The table on which the enclosure is placed does not turn as in the case of the test for the second characteristic numeral 1.
The enclosure is tested for 2,5 min in each of four fixed positions of tilt.
These positions are 150 on either side of the vertical in two mutually perpendicular planes (see figure 3b)).
The total duration of the test is 10 min.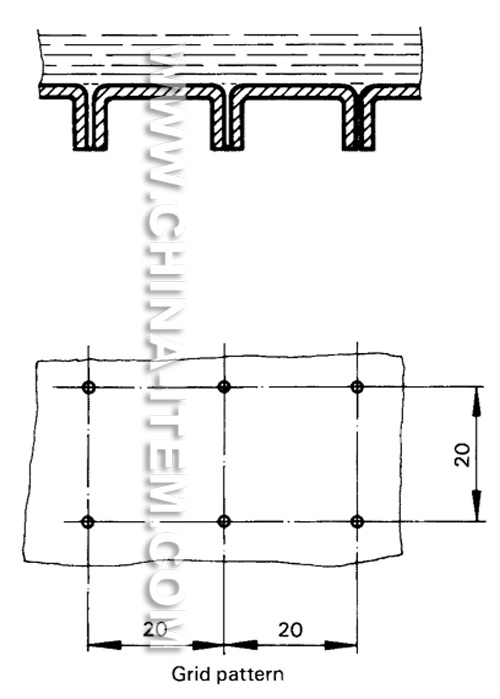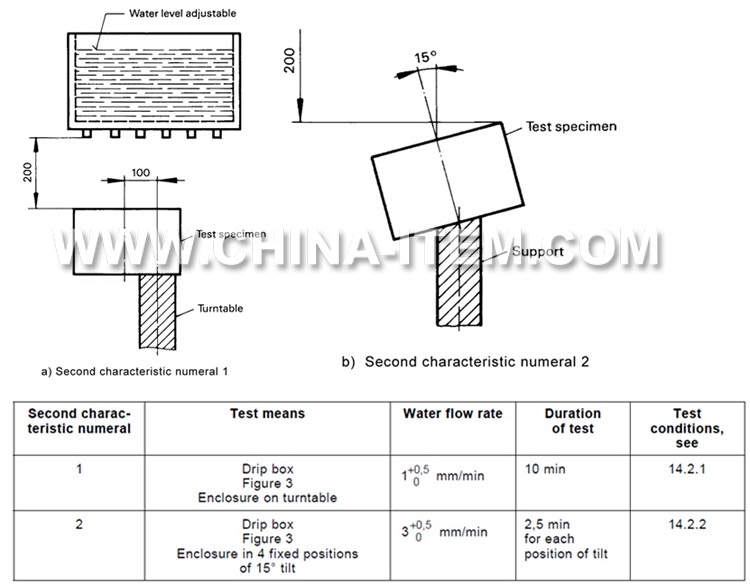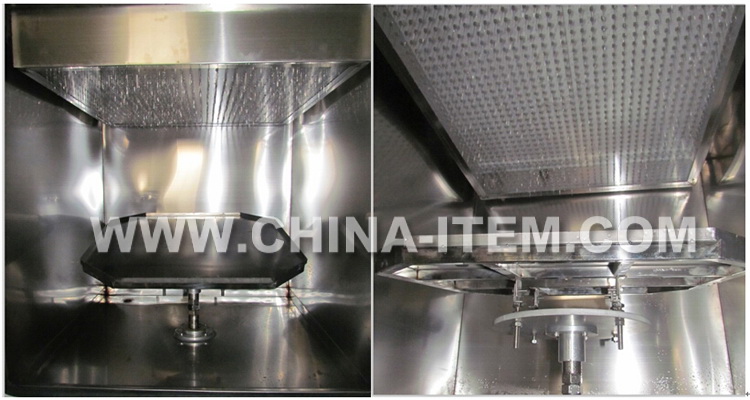 Shenzhen Julixing Instruments Co., Ltd. are specialized in manufacturing special, custom built, test and measuring equipment for products testing as per international norms and offering calibration services and related information. Our products and services are used by research & development establishments, test laboratories, defense establishments, government institutions & manufacturing industries to fulfill the clients' requirements.

If you require equipment to test products such as home appliances, electrical accessories like switches, sockets, connectors, etc. industrial & road lighting luminaires, automobile lighting systems or related categories, we can provide the solutions you need.


We would appreciate your comments on the layout design, presentation or other aspects of our website.

Website: http://www.china-item.com


Contacts: Eason Wang
E-mail: sales@china-item.com
TEL: +86-755-33168386
Phone: +86-13751010017
SKYPE: carlisle.wyk
TradeManager: cn112384072
Address: 1F Junfeng Building, Gongle, Xixiang, Baoan District, Shenzhen, Guangdong, China
ZIP: 518102
Website: http://www.china-item.com/