Fun ptoduct
IEC60529 IPX3 IPX4 Waterproof Tester / IPX3 / IPX4 Oscillating Spray Tester
Item LX-X3/4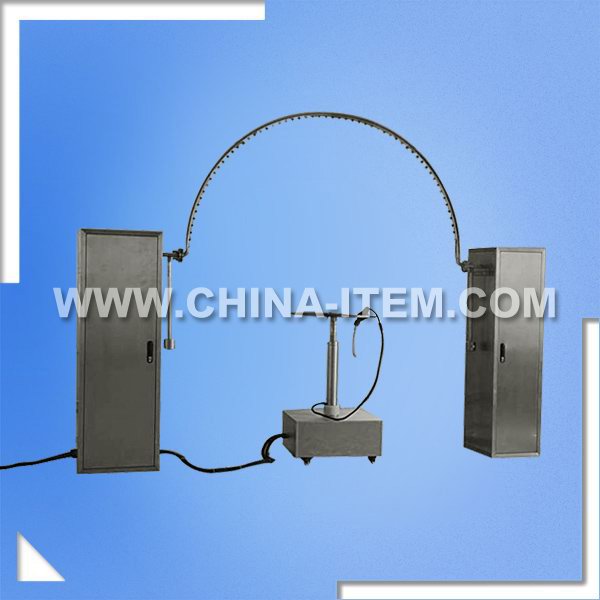 IEC60529 IEC60335 IPX3 IPX4 Water Spray Test chamber
Application
The rain test system is strictly designed according to IEC60529. It's applied to the Electrical equipment of the waterproof test of IPX3 and IPX4.
Technology Parameter
Power Supply

Single phase: AC220V, 50Hz

Swing Pipe diameter

19mm, thickness 2mm

Swing Pipe radius

R800 (304 stainless steel)

Orifice diameter

0.4mm

Orifice angle

IPX3: 120°;

IP4X: 180°

Pendulum Angle

IPX3: 120°(±60°);

IPX4: 360°(±180°)

Swing Pipe Speed

EPX3: 4s/time (2x120°)

IP4X: 12s/time (2x180°)

Water discharge

1-10L/min, adjustable

Test time

0-999mins, can preset

Swivel table diameter

700mm

Swivel table speed

(1-5) rpm

Tiltable Angle

15°

Swivel table rotation angle

900°,continuous rotation

Pressure Gage

0~0.25MPa
The tubes oscillate to almost 180 ° either side of vertical. The degree of oscillation can be set on the touch screen controller or one of the three pre-set values, 90 ° , 120 ° , or almost 180 ° , can be selected.
A specimen support is also included. It is supplied with two specimen bases - one perforated for IPX4 and one non-perforated for IPX3. The support is made from stainless steel and mounted on wheels for easy maneuverability and adjustment. It offers height adjustments that range from 855mm to 1300mm. The oscillating tubes are manufactured with orifice radii of 200 mm to 1600 mm with a progressive ratio of 200 mm.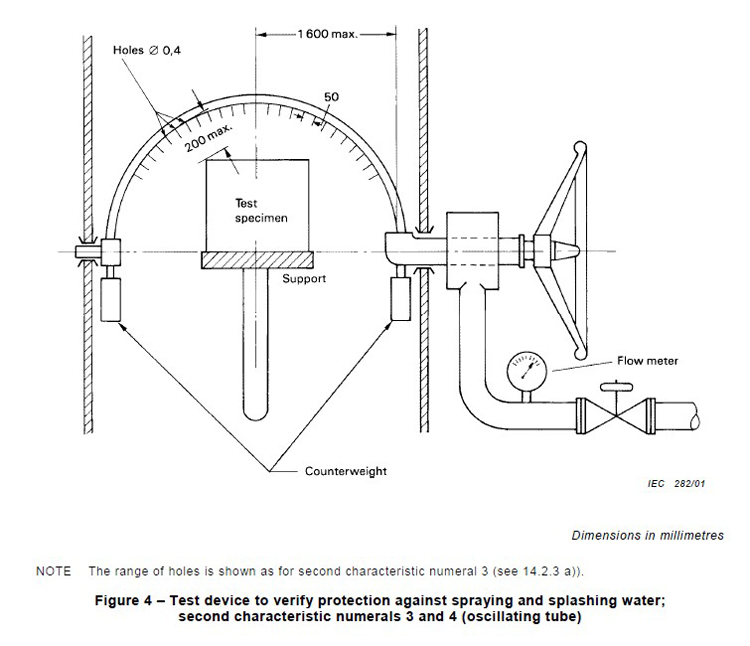 Shenzhen Julixing Instruments Co., Ltd. are specialized in manufacturing special, custom built, test and measuring equipment for products testing as per international norms and offering calibration services and related information. Our products and services are used by research & development establishments, test laboratories, defense establishments, government institutions & manufacturing industries to fulfill the clients' requirements.

If you require equipment to test products such as home appliances, electrical accessories like switches, sockets, connectors, etc. industrial & road lighting luminaires, automobile lighting systems or related categories, we can provide the solutions you need.


We would appreciate your comments on the layout design, presentation or other aspects of our website.

Website: http://www.china-item.com


Contacts: Eason Wang
E-mail: sales@china-item.com
TEL: +86-755-33168386
Phone: +86-13751010017
SKYPE: carlisle.wyk
TradeManager: cn112384072
Address: 1F Junfeng Building, Gongle, Xixiang, Baoan District, Shenzhen, Guangdong, China
ZIP: 518102
Website: http://www.china-item.com/