Fun ptoduct
IPX3/4 Oscillating Tube Test Chamber
Item LX-IPX34B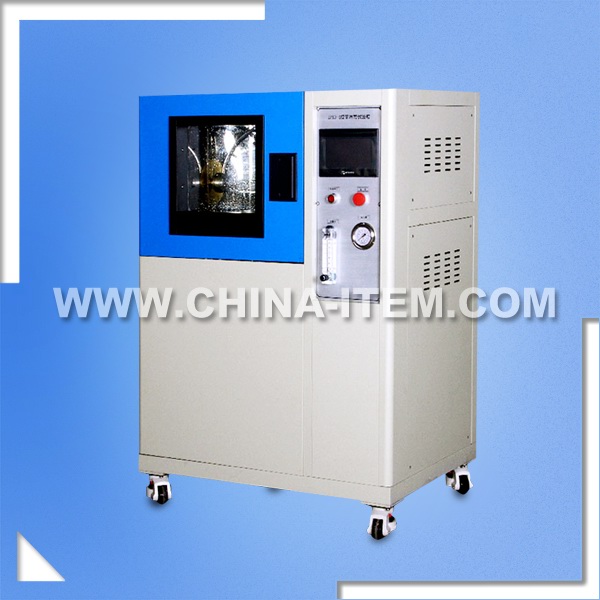 Test standard:
IPX3/4 Oscillating Tube Test Chamber is designed according to the relevant standard requirements of IEC60529 clause14.2.3, 14.2.4 and figure 4.
Application:
The main role of IPX3/4 Oscillating Tube Test Chamber is to test products storage, transport and use in the rain climate environment. It is widely applied to electrical and electronic products, lamps and lanterns, electrical cabinet, electrical components, automobile, motorcycle and its spare parts and other products.
After the test, to determine the performance of the product through the identification is able to meet the requirements, in order for use of the product design, improvement, identification and factory inspection.
Features:
1. It' s applied to the Electrical equipment of the waterproof test of IPX3 and IPX4.
2. IPX3/4 Oscillating Tube Test Chamber for the chamber type, it is suitable for the small and light specimen, if you specimen is large and heavy, you can consider our separate type.
3. The inner chamber and swivel table is made of high quality Aluminum Alloy and SUS304 stainless steel plate, to ensure the long time use does not rust.
4. Adopt large transparent window, inner chamber with LED lamp of waterproof to observe testing samples conditions.
5. Samples power-off time can be set, power 0-999M, off 0-999M.
6. Touch control functions:
A) IPX3 test, according to the standard terms of IPX3 test conditions;
B) IPX4 test, according to the standard terms of IPX4 test conditions;
C) Custom settings, The test was conducted according to user needs, you can set the test time, swing pipe angle, swing pipe speed, and the speed of the swivel table.
7. The panel is provided with a flow meter and pressure gauge, you can visually adjust the flow at the meter.
8. Test time can be set 0-999M adjustable.
9. Use Panasonic PLC, 7-inch touch screen test procedure control box, stainless steel curved pipe, alloy aluminum frame, stainless steel paint.
10. High precision filter can effectively filter impurities in tap water, to prevent clogging of the needle tip.
11. Bottom seat is equipped with four activities with brake casters for easy mobility.
Specifications:

No.

Item

LX-IPX34B-R200

LX-IPX34B-R400

LX-IPX34B-R600

1

Swing Pipe Radius (mm)

R200

R400

R600

2

Internal Size (mm)

L500*D500*H500

L900*D900*H900

L1300*D1300*H1300

3

Exterior Dimensions (mm)

L1000*D680*H1440

L1400*D1080*H1900

L1740*D1480*H1950

4

Flow (L/mm)

0-1L/min

0-2L/min

0-3 L/min

5

Swivel Table Diameter (mm)

Φ 200

Φ 400

Φ 600

6

Swivel TableUp-downAdjustingRange

150 ~250 mm

350 ~600 mm

550 ~1000 mm

7

Nozzle Diameter (mm)

0.4

8

Swing Pipe Inner Size (mm)

15

9

Swing Pipe Angle

120° (IPX3), 350° (IPX4) and Adjustable

10

Swing Pipe Speed

120°for 4S, 360°for 12S and Adjustable

11

Swing Pipe Material

SUS304 stainless steel

12

Swivel Table Speed

1-5 r/min Adjustable

13

Protection Function

No water, leakage, and short circuit

14

Power Supply

220V

15

Power

1 KW

16

According to

IEC60529:1989+A1:1999 (IPX3, IPX4)
Note:
LX-IPX34B-R400 Can Add Radius200 mmof Swing Pipe; LX-IPX34B-R600 Can Add Radius200 mmand400 mmof Swing Pipe;
LX-IPX34B-R400 Can Add Diameter 200 mmof Swivel Table; LX-IPX34B-R600 Can Add Diameter 200 mmand400 mmof Swivel Table.

Shenzhen Julixing Instruments Co., Ltd. are specialized in manufacturing special, custom built, test and measuring equipment for products testing as per international norms and offering calibration services and related information. Our products and services are used by research & development establishments, test laboratories, defense establishments, government institutions & manufacturing industries to fulfill the clients' requirements.

If you require equipment to test products such as home appliances, electrical accessories like switches, sockets, connectors, etc. industrial & road lighting luminaires, automobile lighting systems or related categories, we can provide the solutions you need.


We would appreciate your comments on the layout design, presentation or other aspects of our website.

Website: http://www.china-item.com


Contacts: Eason Wang
E-mail: sales@china-item.com
TEL: +86-755-33168386
Phone: +86-13751010017
SKYPE: carlisle.wyk
TradeManager: cn112384072
Address: 1F Junfeng Building, Gongle, Xixiang, Baoan District, Shenzhen, Guangdong, China
ZIP: 518102
Website: http://www.china-item.com/