Fun ptoduct
IEC60335 Temperature Black Test Corner,Temperature Measurement Test Corner,Tetsing Black Test Corner
Item LX-BTC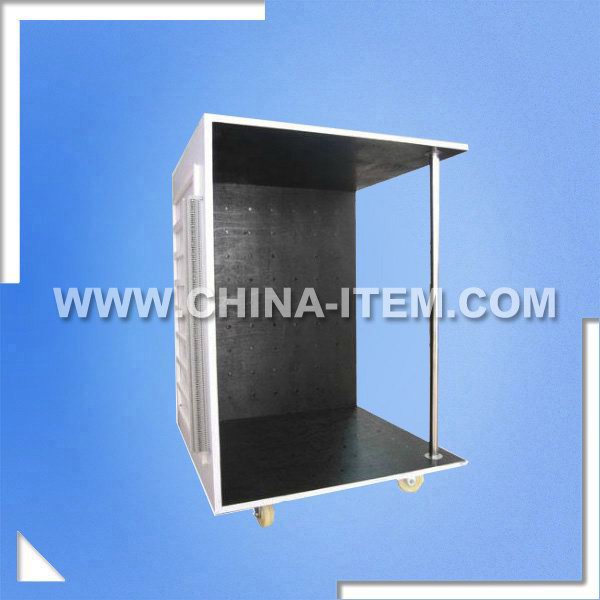 It is used for the measurement of the temperature radiated by different equipment during the tests from heating.
IEC 600335
Dimension

600X600X600mm

800x800x1000mm

1000x1000x1000mm

Thermocouple

<0.3mm Import K type

Thermocouple disposal

Disposal in a line bank( select and fit out thermocouple plug and socket)

Test temperature sheet copper

Diameter15mm, thickness1mm sheet brass

Test Temperature point

20point, 32point, 48point(other);

Test Temperature point disposal

100mm X 100mm

Glued board

Thickness about 20mm, Berlin black in face,Stick the gray sheet glued board in rear

Active part

Install 4 pcs active wheels

Provide

Personalized service


IEC 60335-1 / Clause 11 Warming Black Test Corner
Standard Test corner / room conform to IEC60335-1:2004 and GB4706.1-2005 can be used to the temperature
test of all kinds of electronic products supply, in conformity with the standards requirement of the environmental conditions.
The Black Test Corner is used for the measurement of the temperature radiated by different equipment during the tests from heating and abnormal operation.
One is designed and made with the intention of determining the fulfillment of different norms as far as the registry from temperatures during the operation of the apparatus under test.

Shenzhen Julixing Instruments Co., Ltd. are specialized in manufacturing special, custom built, test and measuring equipment for products testing as per international norms and offering calibration services and related information. Our products and services are used by research & development establishments, test laboratories, defense establishments, government institutions & manufacturing industries to fulfill the clients' requirements.

If you require equipment to test products such as home appliances, electrical accessories like switches, sockets, connectors, etc. industrial & road lighting luminaires, automobile lighting systems or related categories, we can provide the solutions you need.


We would appreciate your comments on the layout design, presentation or other aspects of our website.

Website: http://www.china-item.com


Contacts: Eason Wang
E-mail: sales@china-item.com
TEL: +86-755-33168386
Phone: +86-13751010017
SKYPE: carlisle.wyk
TradeManager: cn112384072
Address: 1F Junfeng Building, Gongle, Xixiang, Baoan District, Shenzhen, Guangdong, China
ZIP: 518102
Website: http://www.china-item.com/