Fun ptoduct
UL1082 / UL1017 / UL1062 / UL982 / UL474 / UL60065 / UL6500 / UL1278 / UL507 Figure9.2 PA100A of UL Articulate Probe Test Finger
Item LX-PA100A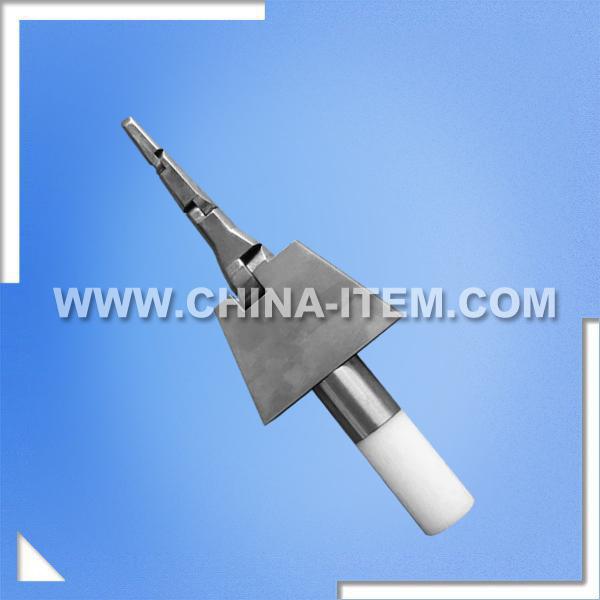 UL1082 / UL1017 / UL1062 / UL982 / UL474 / UL60065 / UL6500 / UL1278 / UL507 Figure9.2 PA100A of UL Articulate Probe Test Finger
Articulate probe with web stop
1. According to : UL507 (PA100A), UL1017 figure 2, figure 6.5 UL1062, UL982 figure 7.1 and figure 1.2 UL474 figure 5.1 and figure 14, UL60065 UL6500 figure 14, Figure 7.2 and figure 8.3 UL1278 UL1082;
2. Mainly used for the inspection to prevent the body touch dangerous live parts,heating or hot parts, mechanical components, as well as inspection of solid foreign bodies into the equipment. It is necessary for protection against electric shock test of household and similar electrical appliances;
3. This is the "UL" test finger, researched and designed by UL and required by most UL Standards. Palm simulator and restricted joint movement simulates human finger movement. Made of all nylon. Bell-Core accessory available.The handle is made of nylon. The finger is made of stainless steel.
Test finger diameter: 25.4mm (1 inch)
Test finger length: 101.6mm (4 inch)
Head radius: R 12.7mm (1/42 inch)
Tail diameter: 31.75mm (1-1/4 inch)
Knurled length: 30/30/40 mm
Material: stainless steel and nylon
Reference: UL507,UL 982,UL 1278,UL 1062,UL1310,UL 474,UL 60065

Shenzhen Julixing Instruments Co., Ltd. are specialized in manufacturing special, custom built, test and measuring equipment for products testing as per international norms and offering calibration services and related information. Our products and services are used by research & development establishments, test laboratories, defense establishments, government institutions & manufacturing industries to fulfill the clients' requirements.

If you require equipment to test products such as home appliances, electrical accessories like switches, sockets, connectors, etc. industrial & road lighting luminaires, automobile lighting systems or related categories, we can provide the solutions you need.


We would appreciate your comments on the layout design, presentation or other aspects of our website.

Website: http://www.china-item.com


Contacts: Eason Wang
E-mail: sales@china-item.com
TEL: +86-755-33168386
Phone: +86-13751010017
SKYPE: carlisle.wyk
TradeManager: cn112384072
Address: 1F Junfeng Building, Gongle, Xixiang, Baoan District, Shenzhen, Guangdong, China
ZIP: 518102
Website: http://www.china-item.com/