Fun ptoduct
IEC60061-3 7006-45-4 G13 Go Gauge for Bi-Pin Cap on Finished Lamp
Item LX-45-4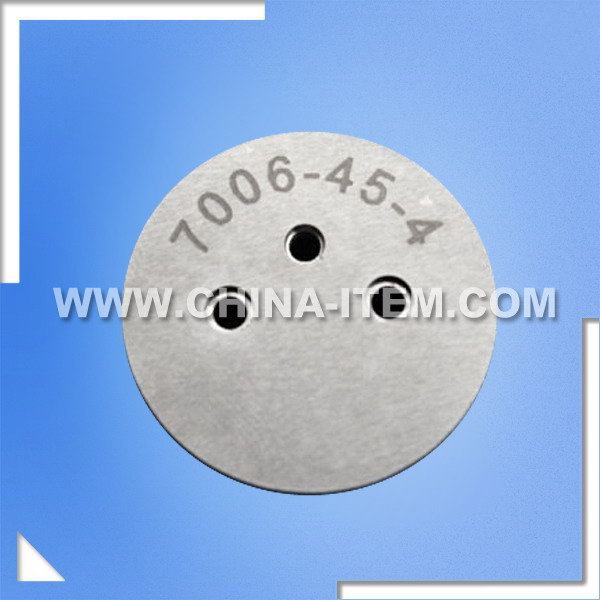 Go gauge for bi-pin cap on finished lamp G13, 7006-45-4
Purpose:
To check dimensions E max., F min., F max. and the combined pin diameter and displacement of pins (including bosses) of bi-pin caps G13 on finished lamps.
Testing:
The pins of the caps on finished lamps shall enter the gauge at surface O and, when fully inserted, the surfaces of cap and gauge shall contact.
In this position the ends of the pins shall be co-planar with or project beyond surface X, but shall not project beyond surface Y.
Each individual pin shall enter hole e1 at surface O until the face of the cap and the surface of the gauge contact.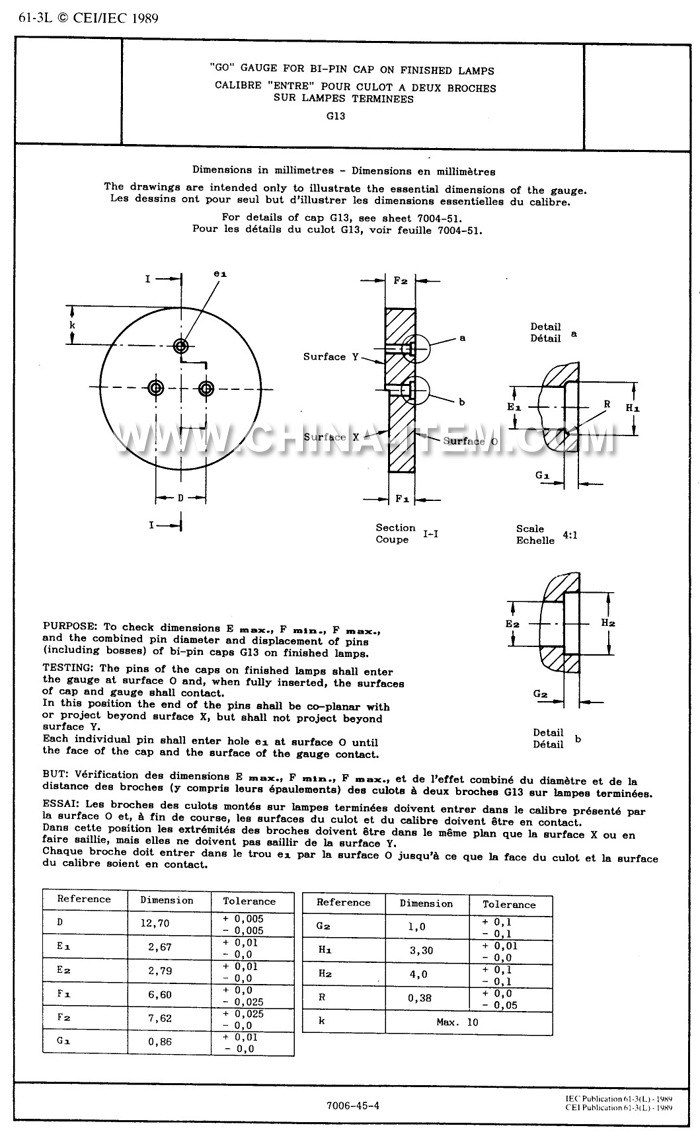 Shenzhen Julixing Instruments Co., Ltd. are specialized in manufacturing special, custom built, test and measuring equipment for products testing as per international norms and offering calibration services and related information. Our products and services are used by research & development establishments, test laboratories, defense establishments, government institutions & manufacturing industries to fulfill the clients' requirements.

If you require equipment to test products such as home appliances, electrical accessories like switches, sockets, connectors, etc. industrial & road lighting luminaires, automobile lighting systems or related categories, we can provide the solutions you need.


We would appreciate your comments on the layout design, presentation or other aspects of our website.

Website: http://www.china-item.com


Contacts: Eason Wang
E-mail: sales@china-item.com
TEL: +86-755-33168386
Phone: +86-13751010017
SKYPE: carlisle.wyk
TradeManager: cn112384072
Address: 1F Junfeng Building, Gongle, Xixiang, Baoan District, Shenzhen, Guangdong, China
ZIP: 518102
Website: http://www.china-item.com/