Fun ptoduct
Spring Operated Impact Hammer - IEC 60068-2-75 - 0.14J, 0.2J, 0.35J, 0.5J, 0.7J, 1J
Item LX-T03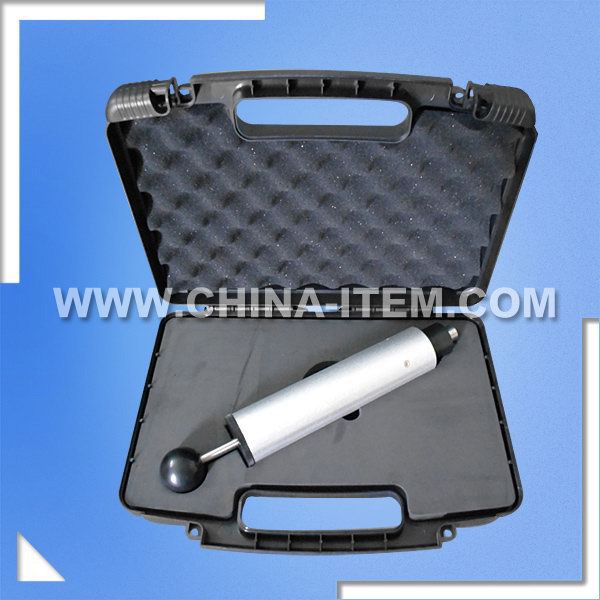 The Spring Operated Impact Hammer from was designed and manufactured according to the requirements of IEC 60068-2-75.
The Spring Operated Impact Hammer simulates mechanical impact to electronic products and electrical appliances. The impact hammer is set at the factory to one specific energy level. The energy range available is between 0.14 Nm to 1 Nm (Joule). A compressed spring accelerates a striking element to hit the sample undergoing test. The spring is released from a locking mechanism by pressing the cone-shaped end of the impact hammer against the product under test.
There are several models, although they are of similar construction characteristics, have a different impact energy according to the test requirement.
Our Impact Hammers are single impact energy.
Device specifications
Material:

Length

:
Weight:
Impact energy:

0,14 J.
0,2 J.
0,35 J.
0,5 J.
0,7 J.
1 J.

The release force of impact

:

Hammer radius

:

Shock components

:

including hit ball and hammer handles, weighs 250g,


the hammer is made from white polyethylene imine first

.

According to:

Shenzhen Julixing Instruments Co., Ltd. are specialized in manufacturing special, custom built, test and measuring equipment for products testing as per international norms and offering calibration services and related information. Our products and services are used by research & development establishments, test laboratories, defense establishments, government institutions & manufacturing industries to fulfill the clients' requirements.

If you require equipment to test products such as home appliances, electrical accessories like switches, sockets, connectors, etc. industrial & road lighting luminaires, automobile lighting systems or related categories, we can provide the solutions you need.


We would appreciate your comments on the layout design, presentation or other aspects of our website.

Website: http://www.china-item.com


Contacts: Eason Wang
E-mail: sales@china-item.com
TEL: +86-755-33168386
Phone: +86-13751010017
SKYPE: carlisle.wyk
TradeManager: cn112384072
Address: 1F Junfeng Building, Gongle, Xixiang, Baoan District, Shenzhen, Guangdong, China
ZIP: 518102
Website: http://www.china-item.com/