Fun ptoduct
K60950-1,PSB+IEC60950-1,EAC+IEC60950-1,NOM-001-SCFI-1993,IRAM+IEC60950-1,SASO+IEC60950-1,IS13252,INMETRO+IEC60950-1,BSMI+IEC60950-1,AS/NZS 60950-1,UL/cUL60950-1,DIN EN 60950,BS EN 60950,IEC 60950 Test Probe Kit
Item LX-60950K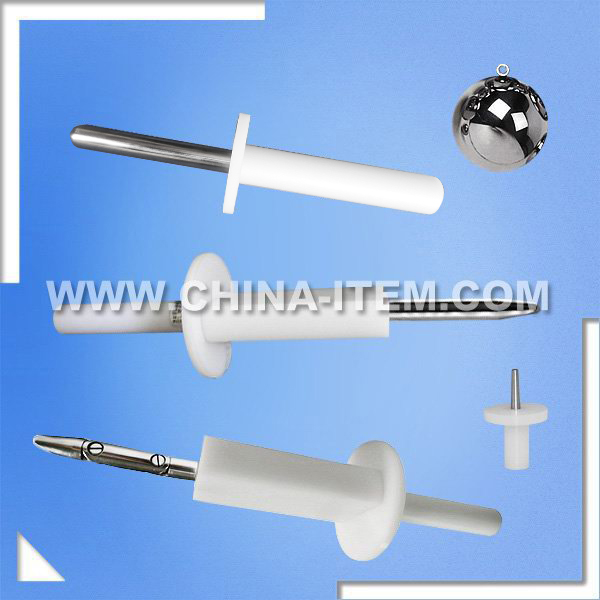 K60950-1,PSB+IEC60950-1,EAC+IEC60950-1,NOM-001-SCFI-1993,IRAM+IEC60950-1,SASO+IEC60950-1,IS13252,INMETRO+IEC60950-1,BSMI+IEC60950-1,AS/NZS 60950-1,UL/cUL60950-1,DIN EN 60950,BS EN 60950,IEC 60950 Test Probe Kit
Meets IEC 60950. Accessibility probes are used to test the size of openings to ensure that fingers and objects do not have access to hazardous parts in equipment and machinery.
Safety Test Probe Kit contains the probes necessary for testing to IEC 60950:
IEC 60950 – "Methods of Measurement of Touch-Current and Protective Conductor Current"

UL 1459 – "Standard for Safety, Telephone Equipment"

IEC 61010 – 1 "Safety Requirements for elec. Equip. for Measurement, Control or Lab Use"




SPECIFICATIONS
1. Jointed Finger Probe: Precision probe which follows IEC specifications and meets the newest requirements. The design features a palm simulator to prevent misuse and a restricted joint movement which simulates human finger movement. This model meets CSA, IEC, UL and other industry requirements.
2. Unjointed Finger Probe: Identical to the Jointed Finger Probe except that it is rigid. Used for forceful insertion where the flexibility of the Jointed Finger Probewould be a hindrance. The handle is designed with a screw tap for use with a force gauge. Meets CSA, IEC, UL and other industry requirements.
3. Test Pin Probe: A quality probe used to test for accessibility of small objects. It is machined with precision to meet industry standards. Meets CSA, IEC, UL and other industry requirements.
4. Impact Test Ball: Specially machined ball to test impact resistance. This is called for in IEC 60950, UL 78 and many other product specifications such as for the automotive industry.
5. Telecommunications Access Probe: Found in IEC 60950, UL and CSA standards, it is used to check for limited access to telecommunication voltages (TNV) mainly telephone jacks and operator areas.
IEC 60950 Figure 2A – Test finger, Figure 2B – Test pin, Figure 2C – Test probe, Figure 2D - Accessibility of internal conductive parts, Figure 4A - Impact Test Using a Steel Ball.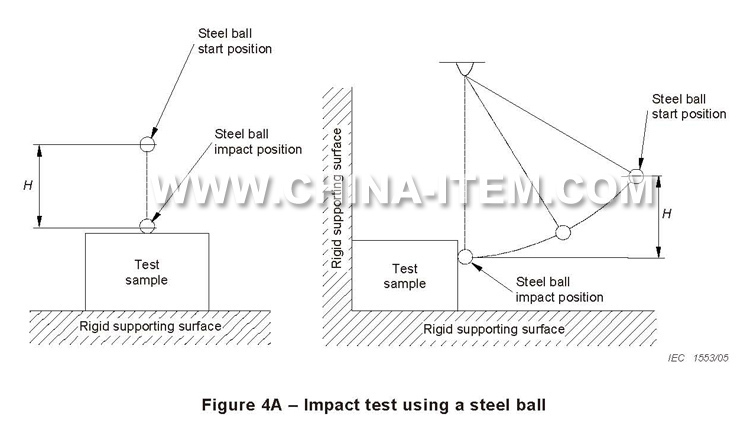 Shenzhen Julixing Instruments Co., Ltd. are specialized in manufacturing special, custom built, test and measuring equipment for products testing as per international norms and offering calibration services and related information. Our products and services are used by research & development establishments, test laboratories, defense establishments, government institutions & manufacturing industries to fulfill the clients' requirements.

If you require equipment to test products such as home appliances, electrical accessories like switches, sockets, connectors, etc. industrial & road lighting luminaires, automobile lighting systems or related categories, we can provide the solutions you need.


We would appreciate your comments on the layout design, presentation or other aspects of our website.

Website: http://www.china-item.com


Contacts: Eason Wang
E-mail: sales@china-item.com
TEL: +86-755-33168386
Phone: +86-13751010017
SKYPE: carlisle.wyk
TradeManager: cn112384072
Address: 1F Junfeng Building, Gongle, Xixiang, Baoan District, Shenzhen, Guangdong, China
ZIP: 518102
Website: http://www.china-item.com/