Fun ptoduct
AC 5kV Withstand Voltage Tester, DC 6kV Hipot Tester, AC & DC Programmable Insulation / Hi-pot Tester
Item LX-7122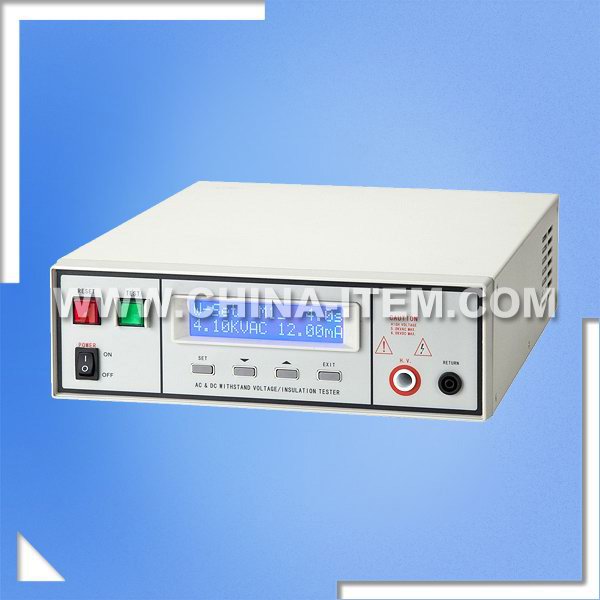 Programmable hipot and insulation tester
Model
LX-7122 (AC/DC Insulation)
Testing Voltage
(AC) 0~5kV (DC) 0~6kV
Measurement Accuracy
±(2%+5V)
Leakage Current
AC 12mA / DC 5mA
Display Accuracy
±(2%+2 Counts)
Output waveform
sine wave THD.<2% (Crest Factor)>1.3<1.5
Voltage Regulation
± (1%+5V) No load to full load
Resistance
1~1000(MΩ)
Accuracy
±(5%+21 Counts) voltage≥500V DC
±(5%+2 Counts) voltage≥500V DC
Test Time
0.2~999.9s
Output Frequency
50Hz/60Hz
Output
Single phase
47~63Hz, 115V/230V AC±15%
Interface
INPUT : Test, Reset
OUTPUT : Pass, Fail, Test, Process
Failure alarm
Buzzer, LCD display "FAIL", designator light
Memory
5 set, each has 4 kinds of test mode (W, I, W-I, I-W)
Safety lock keyboard
Can choose to "lock" or "not locked" two modes
LCD
16*2 Dot matrix, backlight type
Calibration
Software calibration
Working environment
Environment temperature: 0 - 40℃
Humidity: 0 - 80%RH
Size
89 * 280 * 390 mm
Weight
9 kg
Standard accessories: High Voltage Test Lead * 1, Return Test Lead * 1.
Option for the user choose:
Hipot/insulation resistance test fixture (for Electronic finished product)
71/7305 Backplane remote connection
High Voltage Test Probe
Remote Test/Reset Controller

Shenzhen Julixing Instruments Co., Ltd. are specialized in manufacturing special, custom built, test and measuring equipment for products testing as per international norms and offering calibration services and related information. Our products and services are used by research & development establishments, test laboratories, defense establishments, government institutions & manufacturing industries to fulfill the clients' requirements.

If you require equipment to test products such as home appliances, electrical accessories like switches, sockets, connectors, etc. industrial & road lighting luminaires, automobile lighting systems or related categories, we can provide the solutions you need.


We would appreciate your comments on the layout design, presentation or other aspects of our website.

Website: http://www.china-item.com


Contacts: Eason Wang
E-mail: sales@china-item.com
TEL: +86-755-33168386
Phone: +86-13751010017
SKYPE: carlisle.wyk
TradeManager: cn112384072
Address: 1F Junfeng Building, Gongle, Xixiang, Baoan District, Shenzhen, Guangdong, China
ZIP: 518102
Website: http://www.china-item.com/