Fun ptoduct
UL6500 Figure B.1 / IEC60950-1 Figure 2C - Test Probe Telekom Sonde
Item LX-TD15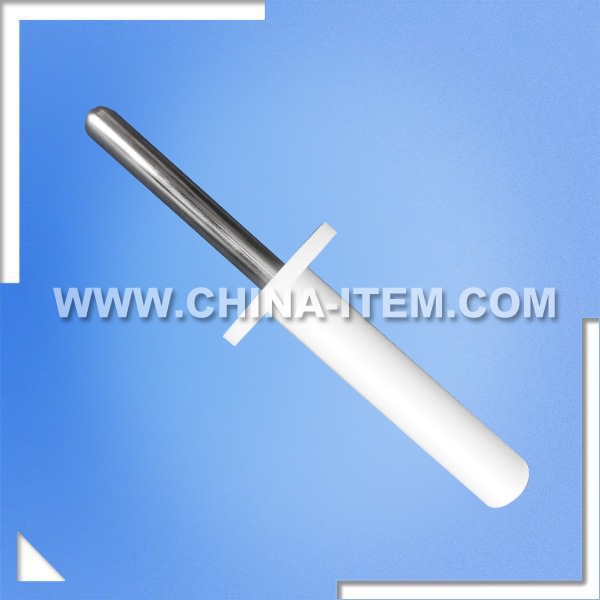 UL6500 Figure B.1 / IEC60950-1 Figure 2C - Test Probe Telekom Sonde
Purpose:
Telecom-Test Probe meets IEC60950 Figure 2C and UL6500 Figure B.1 standards. is for the absolute share TNV circuits information technology to see if they provide sufficient protection.

Contacts of terminals for TNV CIRCUITS which cannot be touched by the test probe figure B.1, are an additional exemption from the requirement for inaccessible TERMINAL contacts.
Apparatus containing input TELECOMMUNICATION NETWORK leads over which ringing voltages are applied to the equipment shall be subjected to Leakage Current due to Ringing Voltage tests per 6.3.4.3 of UL 1950, Third Edition.
Conforms to:
Standard UL6500 Figure B.1 / IEC60950-1 Figure 2C etc.
Technical Parameter:
Test probe diameter: 12mm
Test probe length: 80mm
Baffle plate thickness: 5mm
Baffle plate diameter: 50mm

Shenzhen Julixing Instruments Co., Ltd. are specialized in manufacturing special, custom built, test and measuring equipment for products testing as per international norms and offering calibration services and related information. Our products and services are used by research & development establishments, test laboratories, defense establishments, government institutions & manufacturing industries to fulfill the clients' requirements.

If you require equipment to test products such as home appliances, electrical accessories like switches, sockets, connectors, etc. industrial & road lighting luminaires, automobile lighting systems or related categories, we can provide the solutions you need.


We would appreciate your comments on the layout design, presentation or other aspects of our website.

Website: http://www.china-item.com


Contacts: Eason Wang
E-mail: sales@china-item.com
TEL: +86-755-33168386
Phone: +86-13751010017
SKYPE: carlisle.wyk
TradeManager: cn112384072
Address: 1F Junfeng Building, Gongle, Xixiang, Baoan District, Shenzhen, Guangdong, China
ZIP: 518102
Website: http://www.china-item.com/