Fun ptoduct
IEC61032:1997 / IEC61032:2008 / BS EN61032 / CEI 61032 IP1X Test Probe A with 50N Force
Item LX-1AT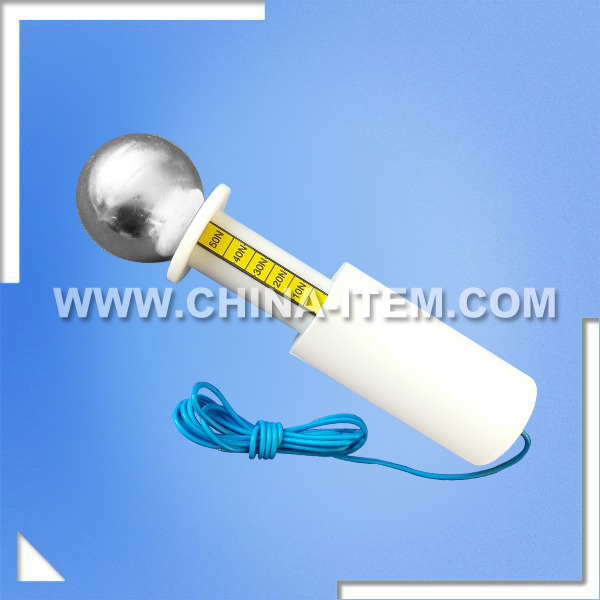 IEC61032:1997 / IEC61032:2008 / BS EN61032 / CEI 61032 IP1X Test Probe A with 50N Force
Specification:
IP1X Probe A /Test Probe A
1, According to : GB/T4208-2008 / IEC 61032:1997 / IEC 60529:2001 and UL
2, IP1X Probe A (Test Probe A) is necessary appliance for household and similar electrical appliance of against electric shock protection test.
Technical Parameters:
1. Ball Diameter: 50mm
2. Total Length: 210mm
3. Baffle Plate Diameter: 45mm
4. Baffle Plate Thickness: 4mm
5. Handle Diameter: 45mm
6. Handle Length: 95mm
7. According to IEC 61032 figure 1 (the Test probe A), table 6 GB/T4208-2008 the first characteristics (1)
Application:
1, Sphere can not touch the live parts or close to the dangerous parts.
2, In the testing requirements of keep close to the dangerous part, the test steel ball without thrust need to be used with push tension meter, and steel body for protective coating need to apply to 50 N thrust.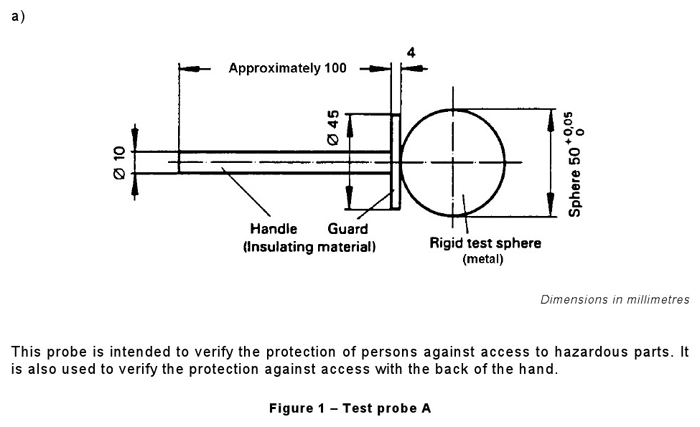 Shenzhen Julixing Instruments Co., Ltd. are specialized in manufacturing special, custom built, test and measuring equipment for products testing as per international norms and offering calibration services and related information. Our products and services are used by research & development establishments, test laboratories, defense establishments, government institutions & manufacturing industries to fulfill the clients' requirements.

If you require equipment to test products such as home appliances, electrical accessories like switches, sockets, connectors, etc. industrial & road lighting luminaires, automobile lighting systems or related categories, we can provide the solutions you need.


We would appreciate your comments on the layout design, presentation or other aspects of our website.

Website: http://www.china-item.com


Contacts: Eason Wang
E-mail: sales@china-item.com
TEL: +86-755-33168386
Phone: +86-13751010017
SKYPE: carlisle.wyk
TradeManager: cn112384072
Address: 1F Junfeng Building, Gongle, Xixiang, Baoan District, Shenzhen, Guangdong, China
ZIP: 518102
Website: http://www.china-item.com/