Fun ptoduct
LX-HP8000S CCD Fast Scan Spectrophotocolorimeter with Double Photo-Detectors
Item LX-HP8000S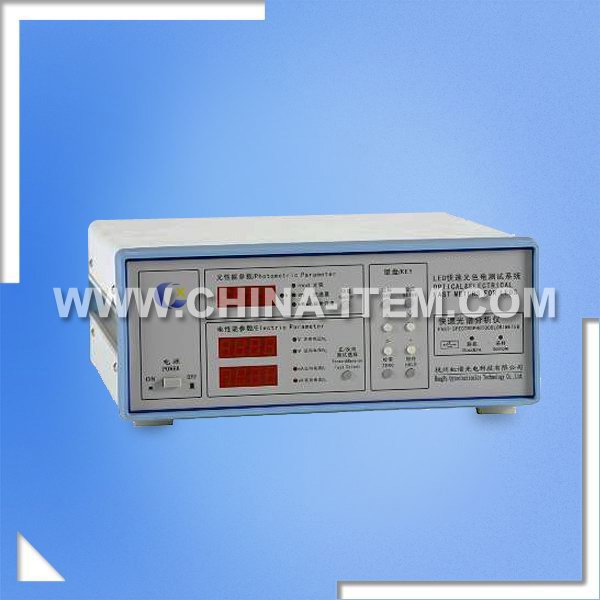 FEATURES:
1. Run under the Windows XP, Windows 98 operation system.
2. SMA905 fiber connector and CCD fast canning speed.
3. Connect with computer to save the data as PDF file or Excel file for analysis purpose.
4. A set of mainframe cooperate with power meter, AC power source, integrating sphere and etc. can completely fulfil the testing about photometry, colorimetry and electricity.
5. The system is not only suitable for labs, QC departments and R&D departments, but also for production line.
CHRACTERISTICS AND SPECIFICATIONS
The system can determine spectral power distribution, chromaticity coordinates, correlated color temperature (CCT), color rending index, SDCM, peak wavelength, spectral half width, dominant wavelength, color purity, luminous flux and etc.
1. Test speed:5ms-2s;
2. Range of wavelength: 380~780nm;
3. Accuracy of wavelength: ±0.3nm;
4. Accuracy of chromaticity coordinates: ±0.0015(x, y);
5. Range of dominant wavelength: 380~780nm;
6. Accuracy of dominant wavelength: ±0.5nm;
7. Correlative color temperature: 1000K—100000K, resolution:1K
8. Range of luminous intensity: 10mcd~3000cd (available with optical device)
9. Range of luminous intensity: 10mlm~20000lm(depending on the size of sphere);
10. Accuracy of electrical parameters: ±5%;
11. Accuracy of photometry: class1.
12. Range of forward current(IF):0.1mA~5.0A;
13. Range of forward voltage(VF):0.1~40.00V;
14. Range of reverse current(IR):0.1μA~200μA;
15. Range of reverse voltage(VR):0.1~30.00V;
16. A high degree of intelligent instruments with high stability and repeatability, it is completely satisfied with CIE measurement requirement;

Shenzhen Julixing Instruments Co., Ltd. are specialized in manufacturing special, custom built, test and measuring equipment for products testing as per international norms and offering calibration services and related information. Our products and services are used by research & development establishments, test laboratories, defense establishments, government institutions & manufacturing industries to fulfill the clients' requirements.

If you require equipment to test products such as home appliances, electrical accessories like switches, sockets, connectors, etc. industrial & road lighting luminaires, automobile lighting systems or related categories, we can provide the solutions you need.


We would appreciate your comments on the layout design, presentation or other aspects of our website.

Website: http://www.china-item.com


Contacts: Eason Wang
E-mail: sales@china-item.com
TEL: +86-755-33168386
Phone: +86-13751010017
SKYPE: carlisle.wyk
TradeManager: cn112384072
Address: 1F Junfeng Building, Gongle, Xixiang, Baoan District, Shenzhen, Guangdong, China
ZIP: 518102
Website: http://www.china-item.com/