Fun ptoduct
LX-118A 1Hz-100MHz Quartz Resonator for Crystal Industry, Communications, School, Institute
Item LX-118A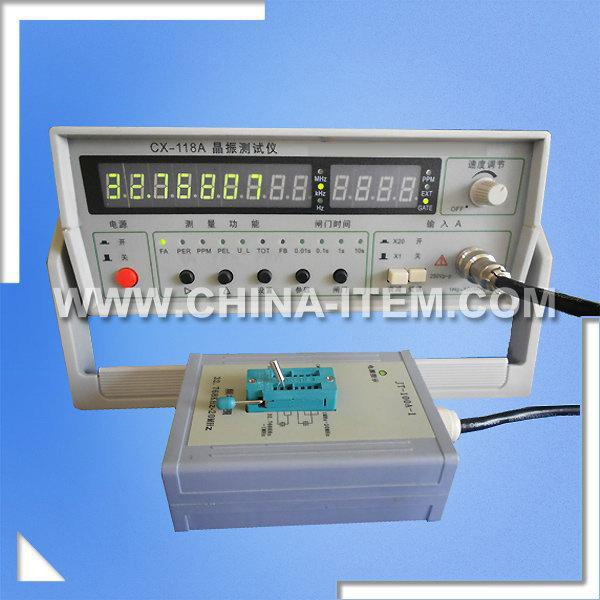 CX -118A crystal vibration test instrument using microprocessor technology, realize the intelligent measurement. This series instrument using inverse counting technology realize equal precision measurement. With high accuracy, high sensitivity, fast, gate time optional; With a frequency measurement, cycle, PPM measurement, step, upper and lower measurement, accumulative count, etc;Center frequency (nominal) frequency F0, step value Pr1 ~ Pr8 (PPM), FU limit frequency, lower frequency FL is arbitrary and can be stored. The machine front end circuit has a low pass filter, attenuator, etc. Especially suitable for the crystal industry, post and telecommunications, communications, radio and television, school, institute and industrial and mining enterprises of production and scientific research.
Frequency range 1 Hz ~ 100 MHz
Cycle measurement range 10 ns ~ 10 s
PPM: 1ppm
Display: 9 LED digital tube display
Power: 220 V ± 22 V 50 H z± 2.5 Hz
Input impedance: 1MΩ//40pF
Dynamic range of input voltage: 30mVrms~250Vp~p

Shenzhen Julixing Instruments Co., Ltd. are specialized in manufacturing special, custom built, test and measuring equipment for products testing as per international norms and offering calibration services and related information. Our products and services are used by research & development establishments, test laboratories, defense establishments, government institutions & manufacturing industries to fulfill the clients' requirements.

If you require equipment to test products such as home appliances, electrical accessories like switches, sockets, connectors, etc. industrial & road lighting luminaires, automobile lighting systems or related categories, we can provide the solutions you need.


We would appreciate your comments on the layout design, presentation or other aspects of our website.

Website: http://www.china-item.com


Contacts: Eason Wang
E-mail: sales@china-item.com
TEL: +86-755-33168386
Phone: +86-13751010017
SKYPE: carlisle.wyk
TradeManager: cn112384072
Address: 1F Junfeng Building, Gongle, Xixiang, Baoan District, Shenzhen, Guangdong, China
ZIP: 518102
Website: http://www.china-item.com/