Fun ptoduct
IEC61032 Test Probe 12, IEC61032 Figure 8, IEC61032 No.12 Probe Test Pin
Item LX-12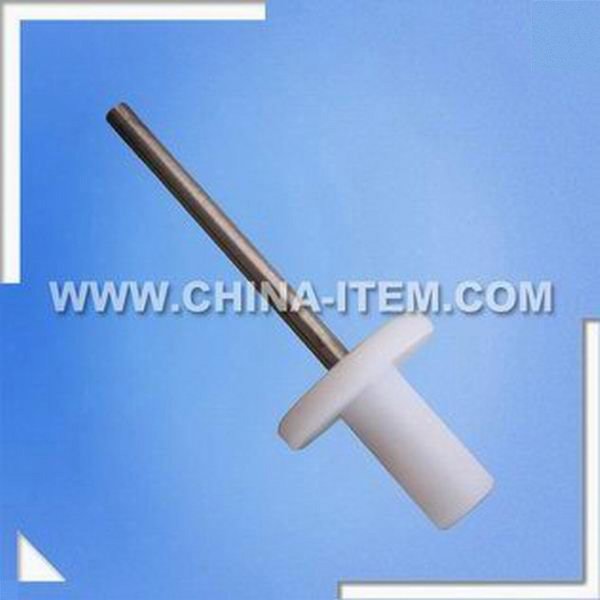 IEC61032 Test Probe 12
Appliance:
It's the necessary tool to proceed protecting electric shock test of household and similar electrical appliances.
Purpose:
This pin probe is intended to be used on appliaces for verifying the inaccessibility of hazardous live parts or hazardous mechanical parts which are liable to be touched accidentally by a tool, for example a screwdriver or similar pointed object in normal use.
Conforms to:
Standard IEC61032-1997, IEC60529-2001, GB/T4208-2008 and UL etc.
Technical Parameter:
Test probe diameter: 4mm
Test probe length: 50mm
Baffle plate thickness: 4mm
Baffle plate diameter: 25mm
Handle length: 20mm
Handle diameter: 10mm
We also provide other probes for household appliance testing, such as Jointed Finger Test Probe, Cylindrical Pin Test Probe, Short Pin Test Probe, Children Test Finger Probe 18, Children Test Finger probe 19, 2.5mm Rod Test probe and so on.
Welcome your kind enquiries!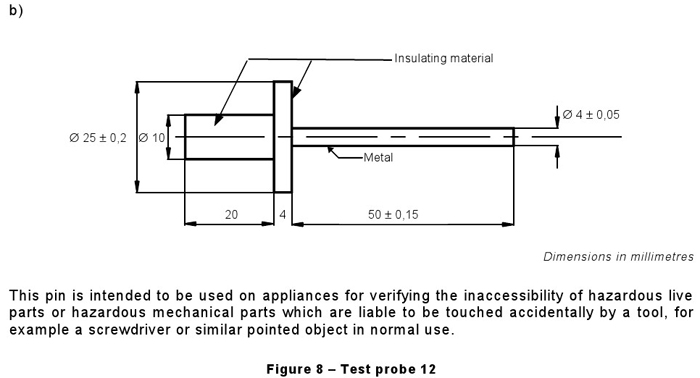 Shenzhen Julixing Instruments Co., Ltd. are specialized in manufacturing special, custom built, test and measuring equipment for products testing as per international norms and offering calibration services and related information. Our products and services are used by research & development establishments, test laboratories, defense establishments, government institutions & manufacturing industries to fulfill the clients' requirements.

If you require equipment to test products such as home appliances, electrical accessories like switches, sockets, connectors, etc. industrial & road lighting luminaires, automobile lighting systems or related categories, we can provide the solutions you need.


We would appreciate your comments on the layout design, presentation or other aspects of our website.

Website: http://www.china-item.com


Contacts: Eason Wang
E-mail: sales@china-item.com
TEL: +86-755-33168386
Phone: +86-13751010017
SKYPE: carlisle.wyk
TradeManager: cn112384072
Address: 1F Junfeng Building, Gongle, Xixiang, Baoan District, Shenzhen, Guangdong, China
ZIP: 518102
Website: http://www.china-item.com/